Mold Removal La Grange
Mold and fungus can get into hidden corners of your home and infest the area before it is ever seen, which is why you should contact the mold removal La Grange agents at 911 Restoration of Louisville, even if you are unsure if fungus is growing.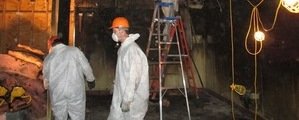 It is important to remove both the mold and its spores to prevent future infestations, as well as remediating any water damage that may be contributing to the mold.
Our IICRC certified mold removal La Grange specialists are trained to mitigate the following causes of water damage and subsequent mold growth:
Washing machine overflow

Ruptured hoses

Flooding

Leaky shower pan

Ice machine Malfunction

Burst Pipes

Roof leaks

Sewage backups

Appliance malfunction

Water heater explosions
We keep our office representatives available 24/7/365 to make it easy for you to call us and schedule an appointment to get a free visual mold inspection, so call us today!
Homeowners Need To Be Aware That Mold Can't Always Be Seen In The Home
Fungus may be growing in air ducts, attics, behind wallpaper, underneath floor boards, or in your carpet, which is why it is so important to get our mold removal La Grange pros to the home to check in all the hard to reach places.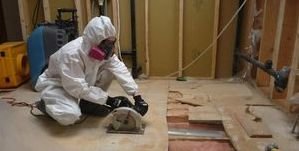 If your home has developed a fungal problem and you can't see it growing in your home, then you may be able to smell and feel it.
If you have ever walked into a room with a musty odor then you should have our mold removal La Grange crew inspect the property thoroughly.
We want homeowners to also be aware that along with smelling mildew and mold, but you may actually feel the physical affects it may have on you and your family.
When you inhale mold spores it can cause you to experience allergy-like symptoms and breathing issues, such as wheezing, coughing, sneezing, headaches, itchy eyes, skin rashes and, even, asthma.
If you have a feeling that fungus could be in your home, call our mold removal La Grange techs today and we will thoroughly sanitize the area today.
When It Comes To Mold Removal, You Can Trust Us To Get The Job Done Right
When our mold removal La Grange team is called to remediate mold from a home, we gladly take on all the responsibility of fixing that situation.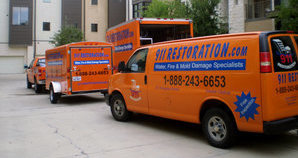 Homeowners can be sure that we will not stop working until the home has been repaired to the highest standards.
Our mold removal La Grange staff are eager to prove our dedication to their customers, so you can be sure that we will always work hard to get your household back on track.
We will assist you with everything, from finding the mold, clearing away the substance, find the source of the growth, and removing all moisture from the household.
Making this whole situation as easy for you as possible is our goal, and we take that very seriously, so call our mold removal La Grange technicians at 911 Restoration of Louisville today.